Readers' 90% off Christmas Clearance Finds
We may earn money or products from the companies mentioned in this post.
Here are some fantastic 90% off Christmas deals our readers scored!  Don't forget to check out our other post Target Christmas clearance deals and more Target Christmas finds for more items you may want to look for when you head to Target.
Heather was super excited to find a Magnolia Dollhouse Set for only $13.00 (reg $130.00)!!
Robyn was surprised to find this Sip by S'well bottle 90% off!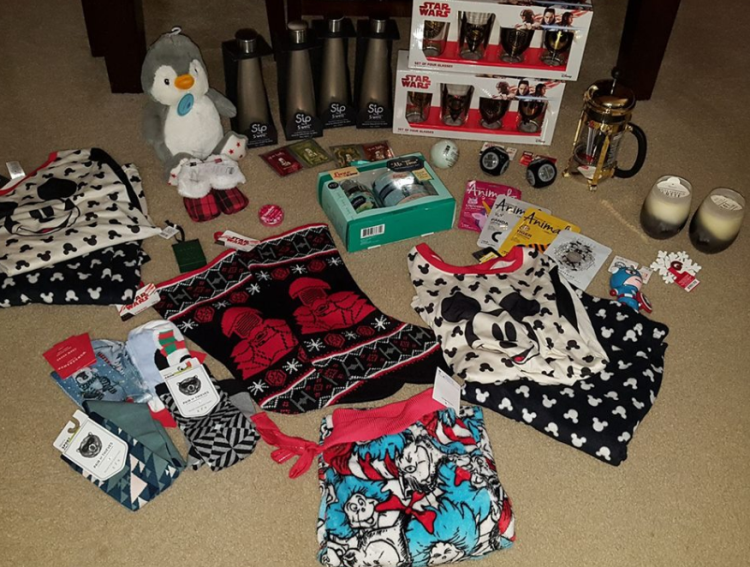 Check out all of the items Nickie picked up. Check out the coffee press that was part of the clearance.
Courtney only paid $26.65 for all of her clearance finds!  She even found a couple of Magnolia workbench sets for only $9.99.   I am so impressed!
Michelle scored all of this furniture for 90% off!!
Pam found a nice mix of clearance items, furniture, pillows, coffee, gift tags & more.
Here is a look at all of the items Shannon picked up at 90% off.
Didou got all of this for only $31.00!
Keri was thrilled to find Star Wars briefs for only $1.00 a package.
Miri found cute unicorn bags, art kits, gift boxes and more.
Melissa picked up some Star Wars hats for only $.50 a piece and Kimberlie grabbed this Threshold tablecloth for only $1.49.
Katie got lucky and found some Elf on the Shelf items along with jewelry, cosmetic bags, headbands & more.
We would love to see even more of your awesome clearance deals, please fee free to share your photos any of the following ways: