More Readers' Target 70% off Christmas Clearance Finds
We may earn money or products from the companies mentioned in this post.
We thought it would be fun to share even more 70% off Target Christmas clearance finds from our readers! I am totally impressed with all of the super deals you all have scored!
Christie was thrilled to score a Hearth & Hand Bakery for her daughters! Some of the Hearth & Hand toys I secretly wish I could buy for myself, they are so cute!
Jamie was over the moon to pick up all of these pretty decor items for her wedding next year! I love this idea!
I love the cute holiday tees Molly grabbed! It looks like she grabbed some cool Holiday pj's too.
Ellen found some cute Santa pillows! The Sleigh All Day door mats will make a nice edition to her porch next year.
Make sure you keep your eye out for the Zak tumblers. CJ found this Zak Tumbler in a light purple color 70% off. The other colors included are a light green, pink and royal blue.
Carey found a really nice selection of Hearth & Hand items. I love that bathroom mat!
Jennifer was super excited to find some Raw Sugar lip care items! I agree, I love this brand!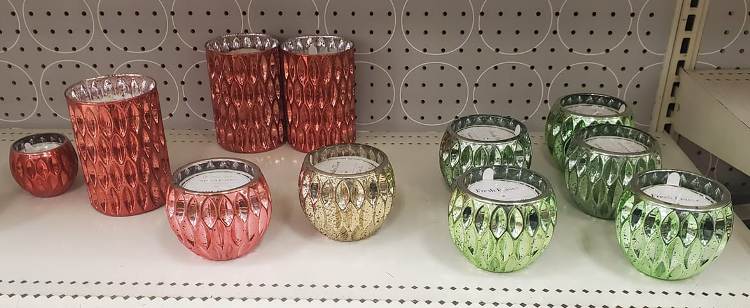 I think these candles Carrie spotted are gorgeous! You could totally display these all year long.
Dani brought home a really nice Hearth & Hand comforter and some other Hearth and Hand goodies.
Lindsey scored these Wondershop Tree sets for only $24 a box!
Whoa! Jess come home with a HUGE clearance haul! She found some of the super cute wooden houses from the Dollar Spot!
Jamie found a couple really fun Disney Lip Smackers & More Than Magic sets that would make great gifts for any occasion.
How pretty is this wreath Alex picked up? I would think you could use this year round! This one is from the Dollar Spot.
Mark came across an end cap FULL of holiday hand soaps. He also found some Native toothpaste (pictured below) which was ringing up at 70% off.
We have really enjoyed seeing all of the awesome Christmas clearance deals you all have scored! If you have any photos you wish to share, please feel free to submit your pictures any of the following ways: