We may earn money or products from the companies mentioned in this post.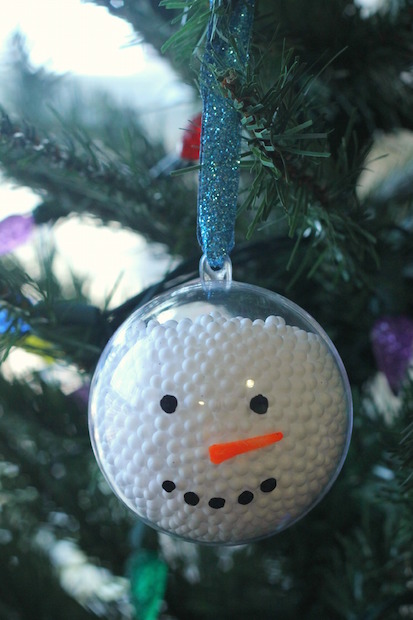 December is when I kick my crafting into high gear. I have so much fun making things to decorate my home and gifts for the ones I love. I bought a variety of ornaments from the craft store in hopes of creating unique ornaments for our tree. Finding "magic snow" in Bullseye's Playground was great since it makes the perfect snow to put inside these easy to make snowman ornaments.
You'll need:
magic snow ($1 from Bullseye's Playground at Target)
clear plastic ornament
chalk markers
ribbon
Draw a snowman face on the ornament. Chalk markers work really well for this since they work kind of like paint to leave a thick, colorful design on the clear plastic.
Let it dry and then fill the ornament with the magic snow. Once you add ribbon it's all done and ready to hang.
The holidays can be a bit hectic, so it's nice to have a simple but fun activity to do with the family. You don't even have to stick to making a snowman. Use different colored chalk markers to create any design you want on your ornaments.
Analisa is a mom and avid DIYer. Along with her family, she will travel anywhere just to say she's been. She writes about creating, parenthood, and her family's adventures at Parental Perspective. She'd love to meet you so feel free to visit her on Instagram or Facebook and say hello!