Pasta e Fagioli with FarmToFork Marinara Sauce
We may earn money or products from the companies mentioned in this post.
This post is a paid partnership with FarmToFork. All thoughts and opinions are my own.
Fall is here and with winter fast approaching, I love making warm soups and stews for dinner. Even better, I love that fact that most of these type of dishes can be made in my slow cooker. I'm sharing one of my favorites with you…Pasta e Fagioli.
Pasta Sauce is one of the food staples we always have on hand at our home; you can do so many amazing things with just one jar! You can make a pasta dish, use it as a sauce for chicken, as a base for soup, and so much more.
Enter FarmToFork™, a NEW brand of pasta sauce that I recently discovered at Target. Their pasta sauces are crafted using thoughtful ingredients, like tomatoes grown with​ equal parts sustainability​ and heart by California​ family farmers, with​ generations of wisdom caring for their tomato crops and the land. You can get new FarmToFork Pasta Sauces at Target Stores nationwide. Use their store locator to find a store near you.
I used the new FarmToFork™ Marinara Sauce as the base for my Pasta e Fagioli recipe. I love the fact that all FarmToFork Pasta Sauces are Non-GMO and contain NO tomato paste, NO added sugars and NO artificial colors or flavors.
Pasta e Fagioli
1 lb pork sausage

1/2 lb ground beef

1 can FarmToFork™ Marinara Sauce (23.5 oz)

1 can Kidney Beans (15 oz)

1 can Cannellini Beans (15 oz)

2/3 cup red wine

1 can diced tomatoes (15 oz)

3 cups beef broth

2 carrots diced

3 stock celery

1 yellow onion

3 cloves garlic

1 teaspoon Italian seasoning

2 tablespoon fresh basil

1 teaspoon fresh thyme

8oz Rigatoni pasta

salt and pepper to taste

garnish with fresh basil and parmesan cheese
Add meats into a frying pan and cook until browned. Add to slow cooker.
Add vegetables and garlic into the same frying pan and cook for 5 minutes scraping the bottom of pan to release the seasoning from the meat. Add vegetables to slow cooker.
Add FarmToFork Marinara Sauce and all remaining ingredients to the slow cooker, with the exception of the pasta. Cook on low for 5.5 hours.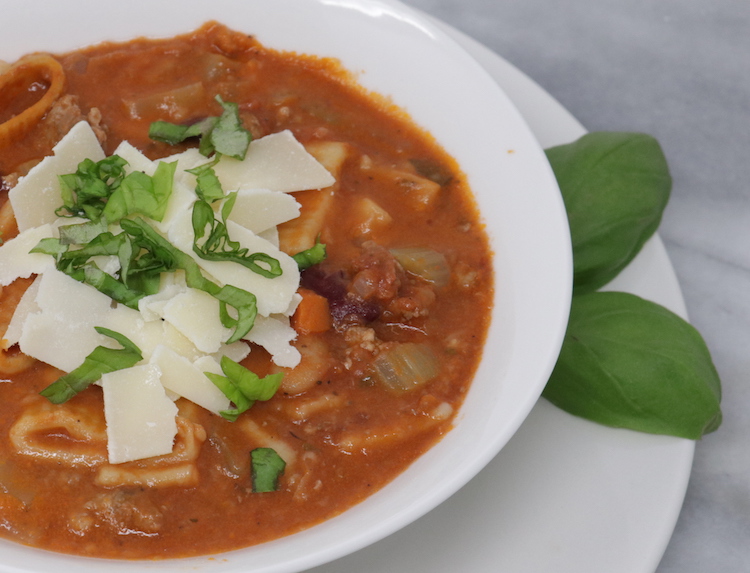 Just before the 5.5 hours, add water to saucepan and cook noodles until just barely soft but not cooked completely, it should take about 6 minutes. Cut the rigatoni in half and add to slow cooker and stir in. Cook for an additional 30 minutes. Add salt and pepper to taste. Garnish each individual serving with parmesan and fresh basil.
Enjoy your yummy bowl of soup! The delicious FarmToFork Marinara Sauce made a great base for the soup. It's big on flavor and made with fresh garlic and onions, too!
You will find the FarmToFork Pasta Sauces at your local Target store. From now until November 16 there's a Circle Offer of 15% off retail price in the Target app. Go pick up your jar of FarmToFork Pasta Sauce now!
FarmToFork Pasta Sauces come in four varieties:
Which one are you looking forward to trying? I'll be using the FarmToFork™ Caramelized Onion & Roasted Garlic next.