Kellogg's Special K FREE Water Bottle with Purchase
We may earn money or products from the companies mentioned in this post.
This post is sponsored by Kellogg's. All thoughts and opinions are my own.
While at Target watch for the special messaging on boxes of Kellogg's Special K, because you can get a FREE Water Bottle when you buy 3 participating Kellogg's Special K products.   The redemption of the water bottle super easy too!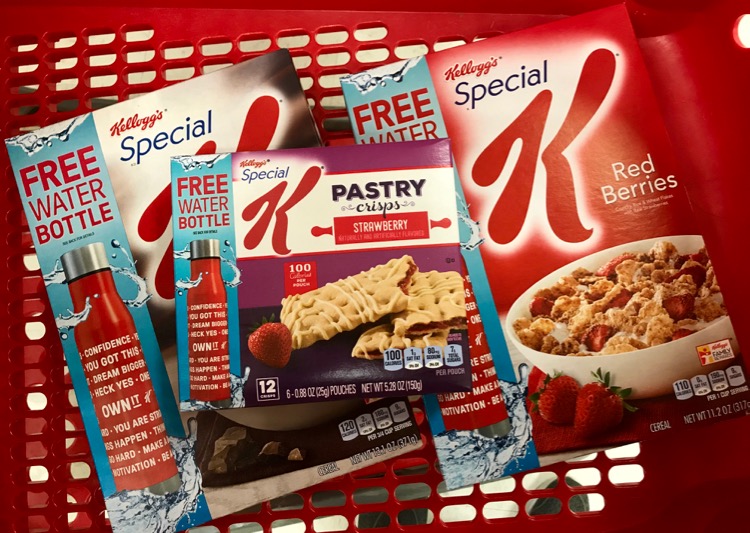 To get your FREE water bottle, just buy 3 of your favorite Kellogg's Special K items with the special messaging on the box. Our family loves the Kellogg's Special K Chocolatey Delight cereal.  If you haven't tried it yet, I recommend you pick up a box (or three).  Check out the list of participating products, you will find more than just cereal is included in this offer.
The water bottle is double walled, stainless steel and has a leak-proof top.   I really like the fact that it is covered with motivational sayings to help you reach your goals.   You will find all the instructions on how to redeem your free water bottle on the back of the box or over at Kellogg's Family Rewards.
Redemption is so easy!   You simply take a photo of your receipt(s) and email or text them to the email address & number they provide.   The credits will be added to your Kellogg's Rewards account and you can redeem them for the water bottle.  There is a limit of 3 water bottles and your receipts will need to be entered by 7/1/18.  If you don't currently have a Kellogg's Family Rewards account you can sign up now, or you will be prompted to do so when you submit your receipt.  I love the fact that there are no forms to mail in, it can all be done electronically.
Another great perk when you sign up for Kellogg's Family Rewards is you gain access to some great coupons for Kellogg's products. Sign up today!