Keebler Cones & Homemade Chocolate Chip Ice cream
We may earn money or products from the companies mentioned in this post.
This post is sponsored by Kellogg's. All thoughts and opinions are my own.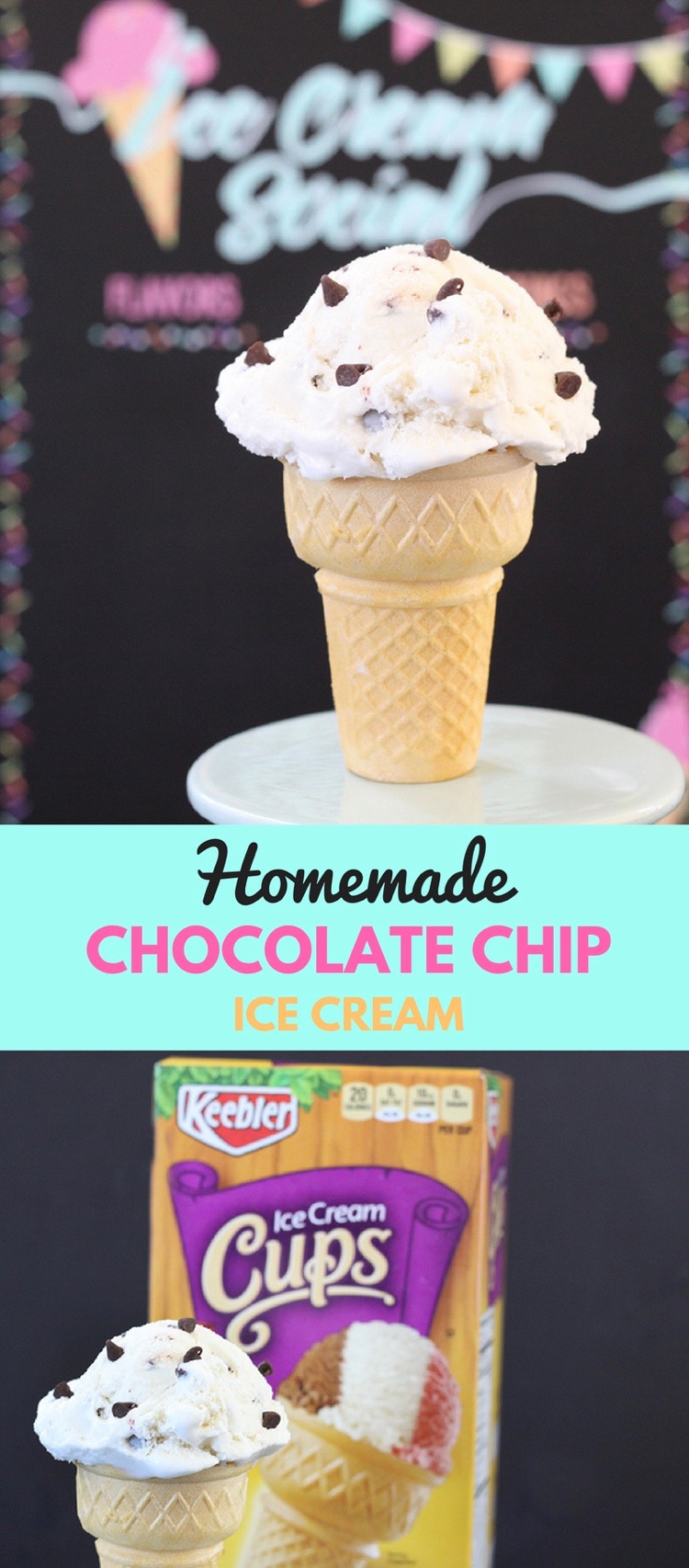 Nothing quite says summer like cool, creamy ice cream!   We love to make our own homemade ice cream, it's fun for the kids and it tastes so good!  There's something extra special about fresh homemade ice cream.  I love the fact that you can customize the ice cream to make any flavor you can dream up.  My favorite way to serve (and eat) ice cream is in a cone.  The ice cream cones are great because it means there aren't any bowls to clean up and ice cream just tastes better in a cone.   I love the crunch of the cone with the sweet, creamy ice cream.   So good!  Through July 8th, you can save on Keebler cones at Target with the 10% off Cartwheel offer.
If you and your family want to make your own homemade Chocolate Chip Ice Cream you will need an ice cream maker and the following ingredients:
Chocolate Chip Ice Cream
2 cups heavy whipping cream
2 cups half and half (or whole milk)
3/4 cup sugar
2 teaspoons vanilla
2/3 cup mini chocolate chips
To make the Homemade Chocolate Chip Ice Cream, add the following into your ice cream maker: Cream, Half and Half, Sugar and Vanilla.  Follow the instructions on your machine and let the ice cream maker do it's magic.
When the ice cream is done add mini chocolate chips and turn on ice cream maker for a few seconds so the chocolate chips get mixed in well.    Scoop and enjoy!
You will find a Keebler cone to please everyone.  Do you have a personal cone preference?  My favorite cones are the Waffle Cones!  Look for these Keebler cones at your Target store:
Ice Cream Cups
Sugar Cones
Waffle Cones
Waffle Bowls
We tried the Keebler Waffle Bowls for the first time and they were so much fun!  We were able to add topping to make a sundae and were still able to enjoy the fun crunch of the cone.   These bowls would be great to use for so many things.  You could make a chocolate mousse and top with raspberries or add fruit and whipped cream.  Your options are endless!
The classic Keebler Ice Cream Cups have always been a hit with the younger crowd at our house.    Scoop up some ice cream into Keebler cones this summer and enjoy!
You should find the Keebler ice cream cones an an end cap near the ice cream at your Target.   Don't forget to load the 10% off Cartwheel offer so you can take advantage of the extra savings.  The Cartwheel offer is valid through 7/8/17.