DIY Rainbow Minnie Ear Holder
We may earn money or products from the companies mentioned in this post.
I love a good Disney DIY, but this one has me over the moon rainbow excited! If you're a Disney fan who collects Minnie ears you're going to want to make a Target run asap. The trick is to use Mondo Llama wood rainbows to create your very own Minnie ear holder. I can't wait to show you how!
You'll need:
pencil
paper
scissors
pushpin
drill
Trace around one of the wood rainbows and cut it out to create your drilling template.
Mark where your wood dowels are going to be placed. You'll want the left and right side to mirror each other exactly.
Poke through the marks with a pushpin.
Place your template on the back of the wood rainbow and mark where the holes are. Do this on each rainbow.
The wood dowels I used were 1/4″x12″ so I used a 1/4″ drill bit for the holes. You want the depth of the holes to be consistent. A little trick I like to use is to put painters tape on the drill bit so I know when to stop.
Drill all of the holes and make sure the dowels fit.
If you want to paint the rainbows, now is the perfect time. I decided to leave mine natural so my colorful ears would stand out.
Now it is time to glue everything together. Lay one of the rainbows down and put just enough glue in each hole so that the dowel fits without any oozing out. Place the dowels in then repeat with the other side of the rainbow.
Quickly but carefully place the ear holder down so the rainbows are standing up. Push it together from the sides and hold onto it for a minute so the dowels set in the glue correctly.
You can finally add your ears!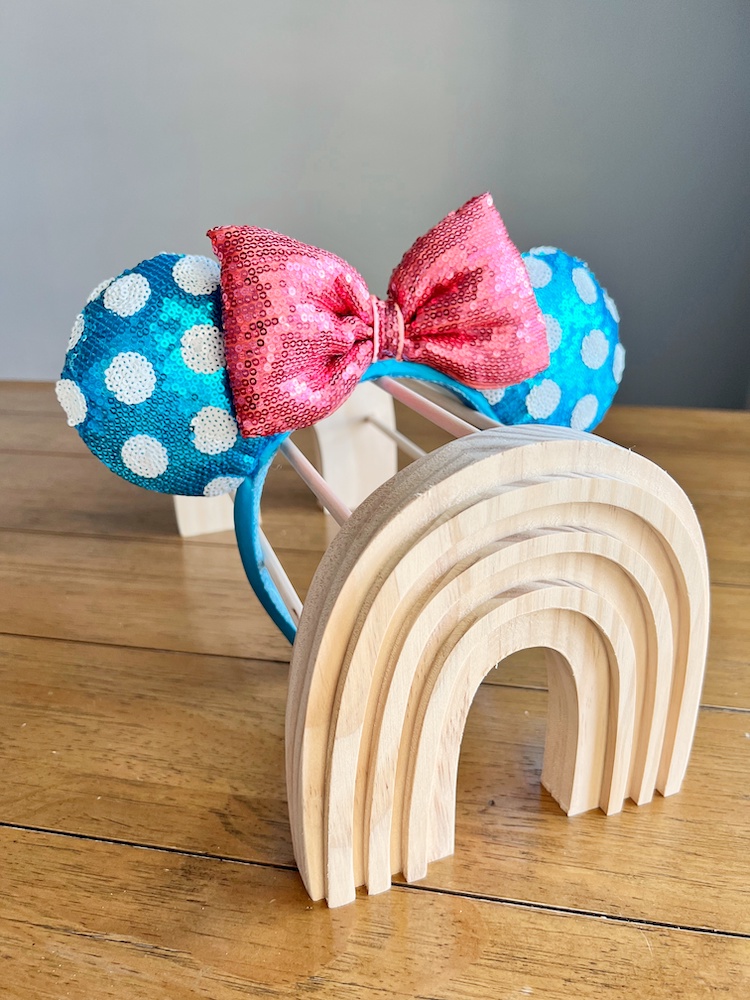 At about a foot long, your ear holder gives you space for plenty of Minnie ears. In my case it even holds a pair of Donald's feet. My kids just love those silly Donald "ears".
Fellow Disney fans, are you more of an ear collector or pin trader? Maybe you collect Disney mugs? I'd love to know what your "must have" souvenir is.
Analisa is a mom and avid DIYer. Along with her family, she will travel anywhere just to say she's been. She writes about creating, parenthood, and her family's adventures at Parental Perspective. She'd love to meet you so feel free to visit her on Instagram or Facebook and say hello!