We may earn money or products from the companies mentioned in this post.
I found these wood buttons and faux suede cording laying next to each other in a bin at Bullseye's Playground. I loved the simplicity of the buttons and the bright colors of the cording. With a package of each I was able to make these colorful button bracelets.
You'll need:
Thread the cord through two button holes so the ends of the cord are on the backside of the button.
Take one end of the cord and pull it back through another hole towards the front of the button.
Pull it through the remaining button hole towards the back of the button.
Leave a little bit of space to create a small loop in the back.
Pull the cords through the loop and the button should lay flat.
Grab both ends and tie a knot to finish the bracelet. Make sure you leave a loop big enough for the button to slide through.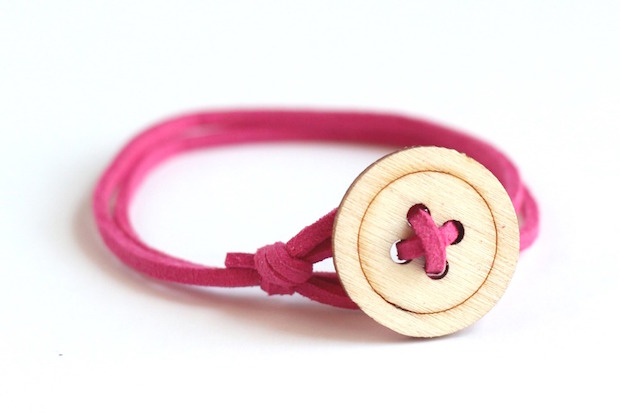 I was able to get one adult sized bracelet out of each color of cording. They're lightweight and so comfortable to wear. You could even stack a few on your wrist for a stylish accessory that will match whatever you're wearing.
Analisa is a mom and avid DIYer. Along with her family, she will travel anywhere just to say she's been. She writes about creating, parenthood, and her family's adventures at Parental Perspective. She'd love to meet you so feel free to visit her on Instagram or Facebook and say hello!