We may earn money or products from the companies mentioned in this post.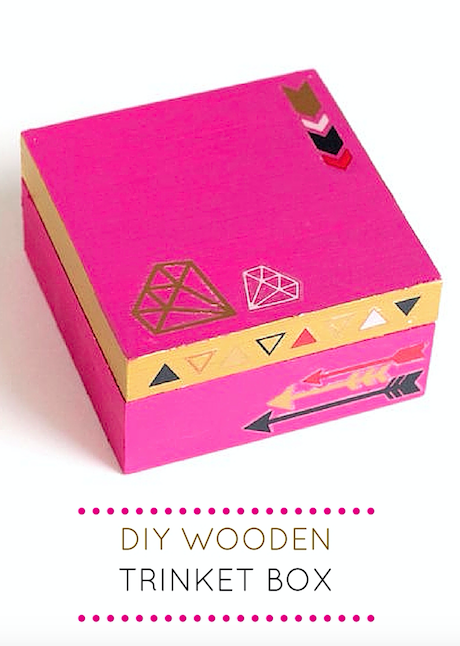 Does your store carry Heidi Swapp's DIY marquee letters? I'm swooning over them! I couldn't find all the letters I wanted at my store, but it did give me a chance to check out the other crafty items in the collection. I spotted some gorgeous papers and stickers, but couldn't resist picking up this sheet of rub-on embellishments.
I love the look of rub-on stickers on wood, so I gathered a few supplies to create a wooden trinket box:
Heidi Swapp Rub-Ons
unfinished wood box
paint
paint brushes
scissors
I started by painting a layer of white paint over the entire box. Any paint you have on hand will work, but I chose to use acrylic paint since it dries quickly. Once it was dry,  I painted over the white with pink and gold. The gold paint is "20K Gold" by Hand Made Modern and can be found in Target's DIY/craft section. It is a gorgeous metallic gold!
I separated the rub-on designs then arranged them on the box.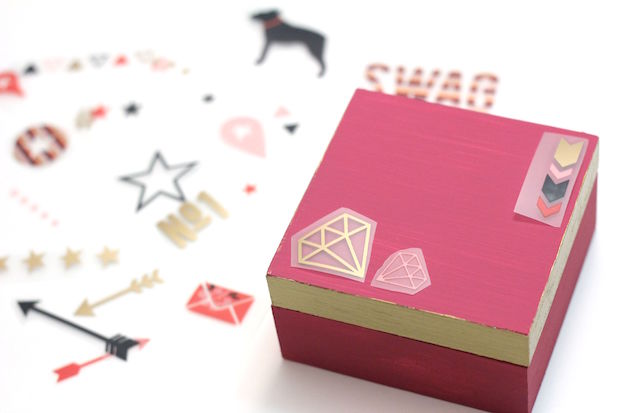 The rub-ons were easy to put on. I just used the wooden stick that it came with to rub the design until it transferred onto the wooden box. It's fool proof really.
These rub-ons were such a fun and unexpected find. I even have plenty left over for another project. I'm looking forward to trying more of Heidi Swapp's collection for Target.
Analisa is a mom and avid DIYer. Along with her family, she will travel anywhere just to say she's been. She writes about creating, parenthood, and her family's adventures at Parental Perspective. She'd love to meet you so feel free to visit her on Instagram or Facebook and say hello!