Butterfly Snack Bags with Honeycomb Cereal
We may earn money or products from the companies mentioned in this post.
This post is sponsored by Post.  All thoughts and opinions are my own.
I can't believe that summer is almost over and the kids will be heading back to school soon.   We'll be busy packing lunches again! These Butterfly Snack Bags would be fun to put inside their lunch.   These come together really quick!  This week is a great time to pick up Honeycomb and all other Post cereals at Target because there is a 25% off Cartwheel offer that is valid through Saturday, August 5th.
Here is what you need to make these Butterfly Snack Bags:  (makes 6 butterflies)
1 box Post Honeycomb cereal
1 lb of grapes
6 decorative clothespins
3 pipe cleaner
12 candy eyes
glue dots
6 plastic sandwich bags
First, start by attaching the eyes to the clothespins.  Glue Dots are absolutely perfect for this.   Cut your pipe cleaners in half so they are about 4- 5 inches long.  Using a pen, curl the pipe cleaner to make the antennas and set aside.  Place Post Honeycomb cereal in one half of the bag.
Clip the clothespin in the center of the bag, and add the antenna by simply pinching it with the top of the clothespin.  Add grapes to the other side of the bag.  Seal bag closed with tape and you are done.
These little butterflies are cute and so quick and easy to make.   Your kids will enjoy making them with you too.   They are sure to put a smile on their face.
The Honeycomb cereal is just the right size for snacking.   My kids would eat cereal for breakfast, lunch and dinner if I would let them.   Cereal is a definitely a staple at our house!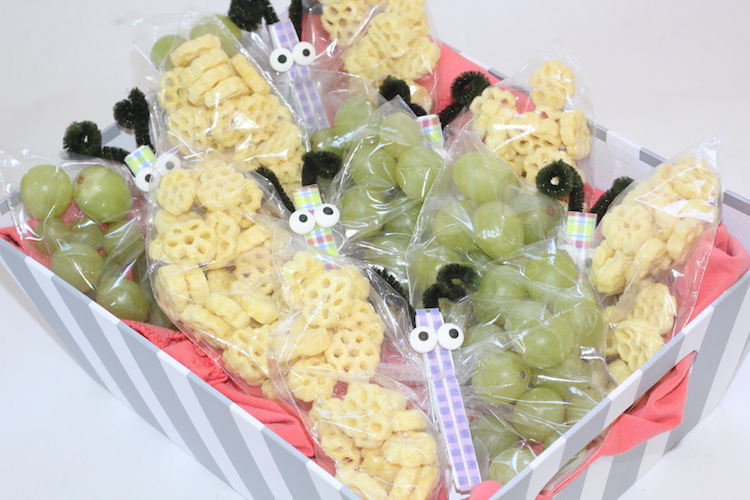 These little snack holders would be perfect for a party too.
Pick up Honeycomb and all your other favorite Post cereals at Target this week and you can save with the high value 25% off Cartwheel offer.  You can save on all Post cereal varieties like Honey Bunches of Oats, Pebbles, Great Grains, Raisin Bran and more.  The Cartwheel offer is valid through August 5th.
These Fruity Pebbles Monster Pops are another fun snack idea for kids.