Win Movie Tickets from Kellogg's
We may earn money or products from the companies mentioned in this post.
This post is sponsored by Kellogg's. All thoughts and opinions are my own.
While strolling the aisles of Target, keep an eye out for special packaging on your favorite Kellogg's products.  Watch for the boxes with the "Win Movie Tickets" on the front of the box.   When you buy these specially packaged items you will have the chance to win movie tickets to see Jurassic World: Fallen Kingdom, which hits theaters on June 22nd.
Hundreds of movie tickets will be awarded every day!   You will find the specially marked boxes on Kellogg's cereals, Cheez-It crackers, Eggo Waffles, Keebler cookies and more.   You can check out the list of all participating products, but here are some highlights of some of the specially marked boxes that I found at my Target store.
Eggo waffles are included in this promo.   These are loved by my youngest, his favorite is chocolate chip.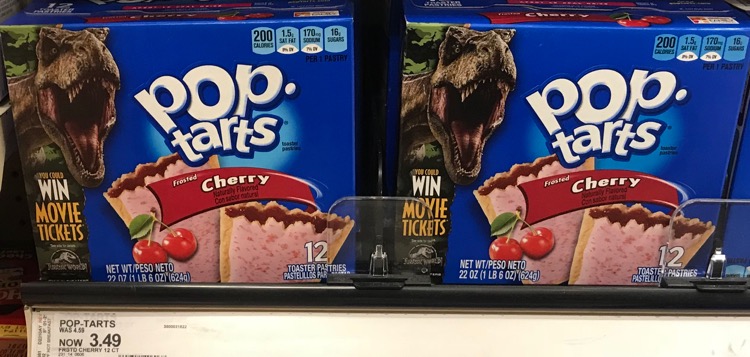 Kellogg's Pop-Tarts also have the specially marked packaging.   There is also a nice $2/4 printable coupon for Pop-Tarts at Kellogg's Family Rewards.
You will find lots of Kellogg's cereals including in the movie ticket promo. I picked up a box of my kids favorite…Krave. You will find a high value $2/4 coupon for Kellogg's cereals at Kellogg's Family Rewards.
Here is what you need to do to enter to win the free movie tickets.
Buy any participating Kellogg's, Pop-Tarts, Eggo, Cheez-It or Keebler product by 8/31/17
Take a photo of your receipt and text with the keyworld MOVIE to 89332 or email to [email protected] by 9/14/18.
Register to get an entry into the daily sweeps for movie tickets. Limit 20 entries per day.
For more information and a list of participating brands, visit KFR.com/MOVIE