Pringles Flavor Stacking + Target Sale 4/$5
We may earn money or products from the companies mentioned in this post.
This post is sponsored by Pringles.  All thoughts and opinions are my own.
We are fans of Pringles at our house!  Everyone in the family has their favorite flavor, so the sale at Target this week will come in handy because I can buy everyone's favorite flavor and save money too.  Target is offering 4 packs of Pringles for $5 through February 3rd, 2018.  You must buy in groups of four to get the special price.
One of the reasons we like Pringles is because they are great for on-the-go.   Because they come in a canister and not in a bag they won't get crunched.   We put them in a backpack and take them on day trips, hikes and even on our vacations.
To make your Pringles snacking more fun you can stack two flavors together.   If you really want to be adventurous you can even stack three flavors.
Here I have stacked two flavors to make BBQ Ranch.
The BBQ Ranch combo is quite tasty.    The teens in my house have lots of fun stacking different flavors.
A favorite flavor combination for my kids is Cheddar Cheese and Sour Cream & Onion.
Through February 3rd, Pringles canisters are a great buy at Target.   You can pick up 4 packs of Pringles for only $5.00, that makes them just $1.25 each when you buy 4.   There are so many different Pringles flavors you are sure to find a flavor to please everyone in your family. There are even some coupons to help you save even more.
Pringles 4/$5.00 ~ Buy 4
$1/4 coupon from 1/28 Red Plum insert
Final Price = $1.00 each
If you are a member of Kellogg's Family Rewards you an redeem 850 points to get a $1/2 Pringles coupon.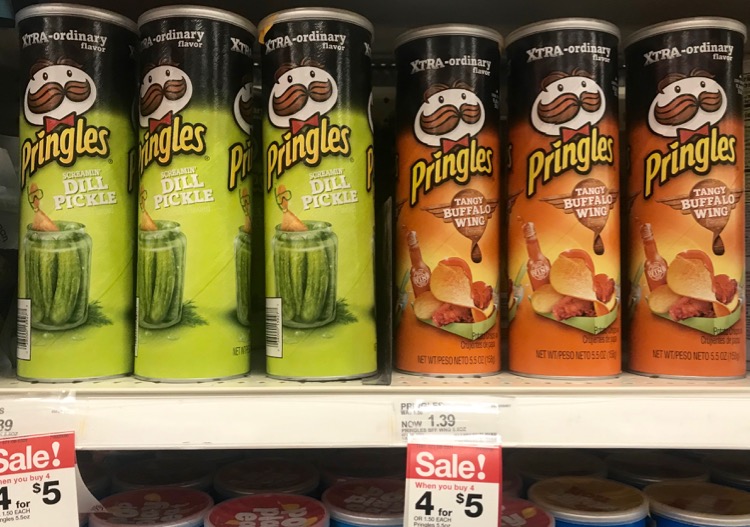 Make sure you also check out their XTRA-ordinary flavors like Dill Pickle and Tangy Buffalo Wing.   Stacking those two would really make for an interesting flavor combination.