Light Up Easter Egg Banner
We may earn money or products from the companies mentioned in this post.
We all know it's getting close to Easter time!  I sure love Easter, with all the vibrant colors and cute Easter decor. I just can't get enough! Here is a quick tutorial on an Bunny & Egg  Banner to spruce up your home for the holiday and something your kids will enjoy as well. Not only was this quick to make, but it super cheap too! All these items were found in the One Spot dollar section at Target.
Supplies for Bunny & Egg Banner (Find them in the One Spot at Target)
Egg Lights (they light up! comes in cute yellow, pink, turquoise and purple)
AA Batteries
Easter Stickers from American Crafts
Dollies
Ribbon
Twine (comes in green and pink – so cute!)
White Burlap Ribbon found in Dollar Spot
White paper
Mini Hole Punch (you can find at Michael's or any craft store)
To make your bunny & egg banner, just simply lay out your egg lights so it's easy to decorate. On every other egg I tied ribbon and white burlap ribbon. The burlap ribbon is a little tough to tie, so gently tug on it to get a knot, it might take a little bit of time.   Also, because its so thick so I cut my in half vertically and about 12 inches long.
On white paper I traced a little bunny and cut out 5 of them, I also tied them  between every other egg as well.  For the easter cards, I just use colored paper I had lying around and decorated with the cute Easter stickers I found at Target. How can you not love them?!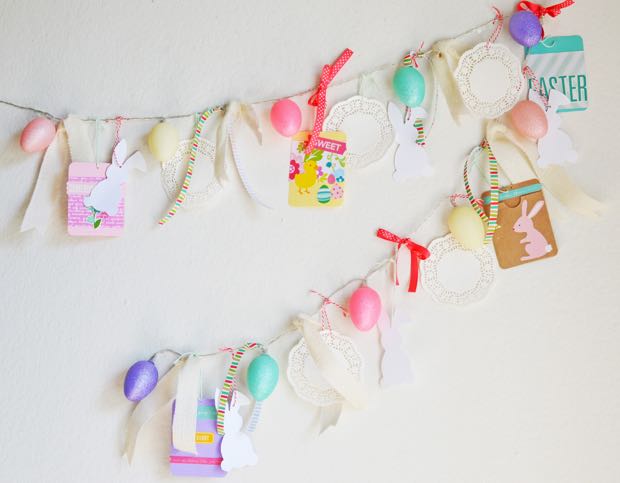 Don't forget to add your dollies.  To tie the paper items to the banner you can use a mini punch hole to put the string through and tie to the banner.   Lastly all you need is to put your batteries in and your banner will light up!  So cute and simple!  This took me about 25 mins to put it together!
Happy Easter everyone!
This project was created by All Things Target DIY/Crafter Kimiko.