Easter Clearance will go 50% on Monday 4/9 ~ Some things to look for!
We may earn money or products from the companies mentioned in this post.
One of my favorite things about shopping at Target is there holiday clearance.   The day after any given holiday the holiday merchandise will go down to 50% off.   If the holiday involves bagged candy, those items will usually start at 30% off.   The best part is the holiday items get marked down to 70% off, and then they finally end at 90% off.
I don't usually buy any items at 50% off, I like to wait and see what I can find at 70% and 90% off.   Don't assume that because it's Easter clearance you won't be able to find any items you can use now.   There are lots of everyday items that you can find in the holiday clearance.
Here are just a few examples:
There are lots of little toys and games that were meant for Easter basket fillers, many of these items don't have an Easter theme at all. You can pick up these small toys for gifts, party favors or even stocking stuffers. I love to pick up items for stocking stuffers all year long so when Christmas rolls around I have all of my stocking stuffer shopping done. Plus, I picked up everything for cheap! You will find Lego's, Cars, Uno games and more.
They even have Burt's Bees lip balm in the Easter section.   This sells for $2.99, so it will be only $1.49 at 50% off, $ .90 at 70% and and if you get really lucky and find some at 90% off, it will cost you only $ .30.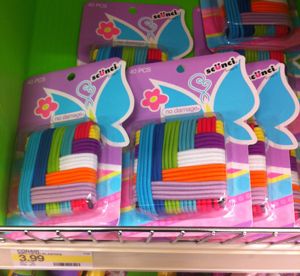 They have cute packages of Scunci pony tail holders.   If you buy them in the Easter section on clearance you will pay less than if you went to the hair accessories aisle and bought some there.   These colors are so bright and fun!
The Easter section has some food items other than candy. You will find Goldfish crackers, Oreo cookies, Pillsbury frosting and more.
They have so many great kitchen gadgets and pans that you will be able to pick up at 50% off or more. I saw Spatulas, mini springform pans, baking sheets, donut pans and lots more.
I also saw some great decorating tips made by Nordic Ware that retail for $19.99, so they will be only $9.99 at 50% off.
Several of the Easter baskets and buckets would make great organizational containers for kids rooms or other places you need a little organization. These make great bases for gift baskets. I like to pick up a couple and save them for when I need to put a gift basket together.
Keep you eyes open and see what items you can find for everyday use. I would love to hear about what items you end up picking up. Happy Shopping!