DIY Wood Arrow Jewelry Holder
We may earn money or products from the companies mentioned in this post.
My Target's craft aisle has recently been redone. I'm finding some really cool pieces I haven't seen before like this wood arrow. With the right hardware and a coat of paint I turned it into a decorative jewelry holder. Want one for yourself? Grab these supplies and let's get started!
You'll need:
push pin
1/2 inch cup hooks
With a small foam brush, paint over the front and the sides of the wood arrow. I like using acrylic paint because it dries quickly.
Once the paint is dry use a pencil and ruler to measure and lightly mark where the hooks are going to go. I spaced my hooks two inches apart.
I picked up these cup hooks from the hardware store, but your Target might carry them. Make sure the screw part is no longer than the thickness of the wood arrow so it doesn't poke through the back.
You can use a small drill to make the pilot holes for the cup screws, but I think it's just as easy to use a push pin.
Remove the push pin and then screw the cup screws in. Keep turning until the screw is all the way in and the open part is facing the top of the wood arrow.
Put in all the cup screws and that's all there is too it!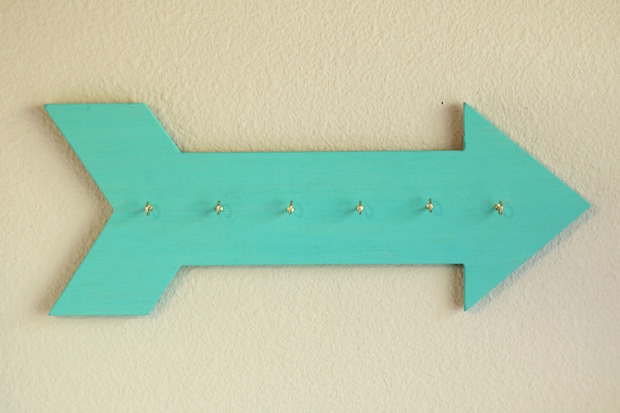 Imagine making a set of these in different colors for all your jewelry. It's such a pretty way to keep it organized.
Analisa is a mom and avid DIYer. Along with her family, she will travel anywhere just to say she's been. She writes about creating, parenthood, and her family's adventures at Parental Perspective. She'd love to meet you so feel free to visit her on Instagram or Facebook and say hello!