Target: The Best Deals of the Week for Baby & Kids
We may earn money or products from the companies mentioned in this post.
Each week I will highlight all of the best deals for baby and kids. These will include coupon match-ups, clearance deals and online deals too!
I am also teaming up with Baby Cheapskate to make sure you stay up-to-date on all of the best diaper and formula deals too.
TRY ME FREE REBATES
Watch for the following items that have Try Me FREE rebates on them:
Playtex OrthoPro Pacifier $4.99
Submit Try Me FREE rebate (found on package)
Final Price = FREE
Gerber Organic Baby Food Pouch $1.46
$ .75/1 printable coupon
Submit Try Me FREE rebate (found on package)
Final Price = FREE + $ .75 overage
CLOTHING
August is a great month for clothing clearance. Target is clearing out all of the summer items to make room for the back-to-school and fall clothing. I have always bought clothing ahead of time for the next season when I find items at 70% off. For example, if my child was wearing a 3T this summer, I am pretty sure they would fit into a 4T next summer. So, I will stock up on 4T summer items at 70% off, then when next summer rolls around we will be all set for summer.
The majority of the baby and toddler clothing is currently at 30%-50% off. Keep an eye on these, because they will eventually get marked down to 70% off. This department gets marked down on Mondays.
I have already spotted a lot of the girls clothing marked down to 70% off.
In addition to the girls clothing, I also noticed all of the girl accessories have finally gone to 70% off. I picked up a few items to use as stocking stuffers for my daughter. Shopping ahead of time when things are cheap, is a great way to save some big money. I found the following items at 70% off.
Hats
Purses
Bags
Scarves
Jewelry
Belts
Hair Accessories
ONLINE TOY DEALS
I found a few toy deals online that are currently marked down to 65% off.   If you have a Target red card, you will receive FREE shipping on your online order, plus you will also receive an extra 5% off.
MegaBrand Thomas Buildable Sodar Fair $8.81 (reg $25.19)
Fisher Price Trio Joker Laugh Factory $7.41 (reg $21.19)
Fisher-Price GeoTrax Paris $11.12 (reg $31.79)
Make sure you check out all of the clearance deals, they have quite a few items that are marked down to 65% off.
BABY FOOD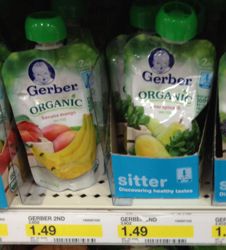 Gerber Organic Pouch $1.49
$. 75/1 printable coupon
Final Price = $ .74 each
Gerber Graduates Grabbers $1.52
$. 75/1 printable coupon
Final Price = $ .77 each
Gerber Puffs $1.99 ~ Buy 2
$1/2 printable coupon
Final Price = $1.49 each
Gerber 2nd Foods (2-pack) $ .97 ~ Buy 2
$ .75/2 printable coupon
Final Price = $ .60 each
Gerber Graduates Yogurt Melts $2.89
$1/1 printable coupon
Final Price = $1.89 each
DIAPER, WIPES AND FORMULA DEALS
For all the Top Diaper and Formula Deals of the week head on over to Baby Cheapskate.   You will find all the best diaper deals at Target and beyond, they even have online deals so you have have your diapers delivered straight to your door.  Baby Cheapskate is a great website that helps you save all on things for baby (and kids too!)