20% off Bed & Bath + 20% off College Coupon
We may earn money or products from the companies mentioned in this post.
This week, bed, bath and storage are 20% off and it includes the Room Essentials line which is great for those headed off to college. In fact, this sale can be combined with the 20% off storewide purchase Circle offer available to college students. This will make for some fantastic savings! It's the perfect time to purchase all of the college essentials while you can stack the savings and get more bang for your buck!
The Room Essentials line has everything your college student needs including bedding, bath, kitchen, decor and more. You'll need to get verified in order to receive the 20% off college Circle coupon. You can take advantage of the savings at Target or online at Target.com. Here are a few scenarios to show you what the savings will look like.
Ribbed Plush Bed Blanket (twin/twin XL) $16 (reg $20)
use 20% off college Circle offer (if you qualify)
Final price = $12.80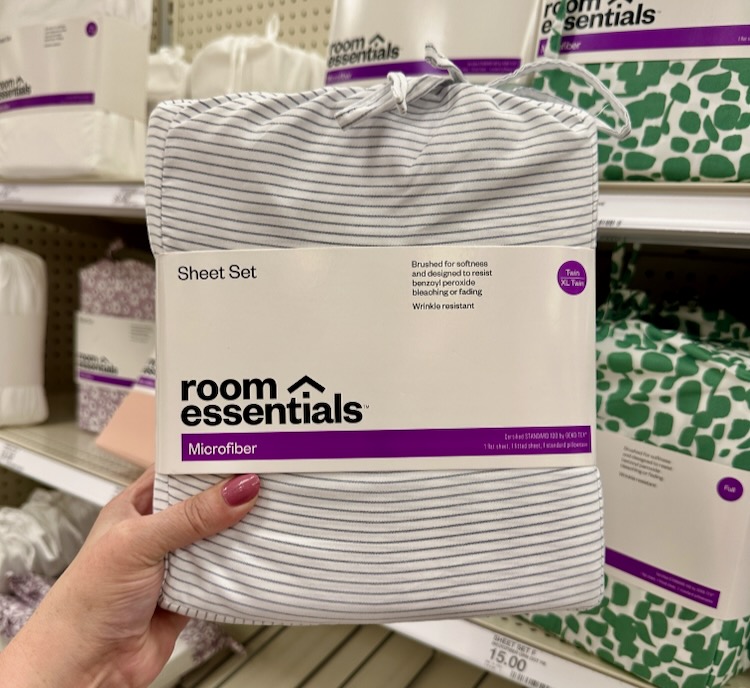 Printed Microfiber Sheet Set (twin/twin XL) $7.60 (reg $9.50)
use 20% off college Circle offer (if you qualify)
Final price = $6.08
Strawberry Tufted Woven Heart Shaped Throw Pillow $12 (reg $15)
use 20% off college Circle offer (if you qualify)
Final price = $9.60
Shower Caddy $2.40 (reg $3)
use 20% off college Circle offer (if you qualify)
Final price = $1.92
15-pc Shower Curtain Set $16 (reg $20)
use 20% off college Circle offer (if you qualify)
Final price = $12.80