Target 70% off Summer Clearance
We may earn money or products from the companies mentioned in this post.
Wahoo!  The Summer clearance was marked down to 70% off today.  If you don't see 70% off signs at your store, make sure you scan a couple items do double check.  Many times the markdown has taken place, but they don't get the chance to switch out the signs.
I'm sharing quite a few deals that I spotted at my store.   Some of these items may end up in their respective departments.  In fact, I found the camping chairs in the camping department instead of the summer section.   These items will not have red clearance stickers.  They should be located at the back of the store near the school supplies.   The top 2 photos were from the Sunrise Puyallup location, the individual photos below are from Kent, WA.   Happy shopping friends!
Eco Trekker travel hammock.  I was super excited about this find.
All the bright colored Crayola items are 70% off.
Ziploc bags with dots in blue and red are 70% off.
These rainbow plates are part of the clearance.  There are also some that are a solid light blue.  Watch for those too.
Big bag great for transporting things to the park or beach.
Happy about this one too!  Camping chairs for only $2.99.
Check for sunblock in 3-pack and 2 packs with the fun summer prints.
A couple "splash" version of games were part of the summer clearance.
Beach towels only $2.99 (reg $9.99)
Nice big picnic blankets were $5.99.
It's a great time to pick up travel mugs and water bottles.   These usually make it to 90% off if you aren't picky about the color or print.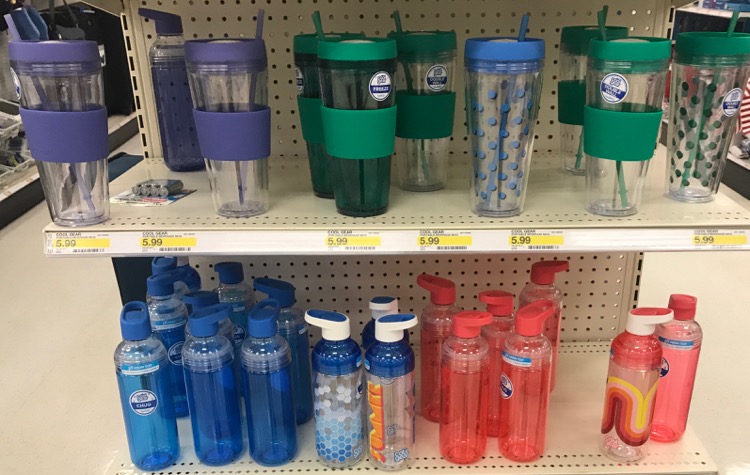 BBQ tools
Bic multi purpose lighters only $1.79.
Lots of fun outdoor games were 70% off   I also found Kan Jam for $11.99.
Tons of fun pool floats.  I am guessing we will see some of these at 90% off.  My store had tons in both the summer section and near the toys.
I would love to see the deals you are scoring (it's one of my favorite things).  Please share your photos any of the following ways: