Smoothie Bowl with Honey Bunches of Oats
We may earn money or products from the companies mentioned in this post.
This post is sponsored by Post Honey Bunches of Oats.  All thoughts and opinions are my own.
One of my new favorite things to have for breakfast is a Smoothie Bowl.  I love how it combines the ease and deliciousness of a smoothie, but the addition of fruit and cereal makes it more of a meal.  Smoothie Bowls are super easy to make and I love how you can switch up the fruit and cereal to come up with so many different flavor combinations.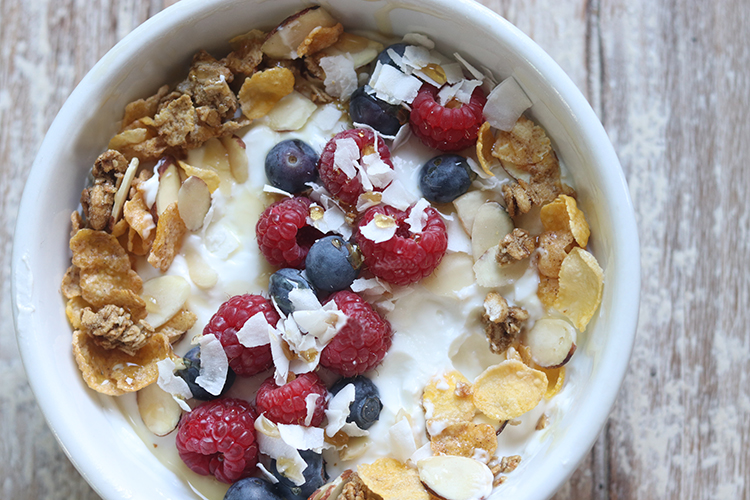 The Post Honey Bunches of Oats with Almonds is an excellent choice for a Smoothie Bowl.  The slight sweetness of the cereal pairs well with the berries and I love the extra crunch the flakes, granola cluster and almonds add to the breakfast.  Now is the perfect time to stock up on Post cereals at Target because through May 26, when you buy 3 boxes of cereal, you will get your 4th free.
Here are the ingredients you will need to make your own Smoothie Bowl.  Keep in mind you can mix these up however you want.  Making new flavor combinations is half the fun.
Ingredients:
1 cup Greek Yogurt
1/4 cup Coconut Milk
1/4 cup Pineapple Chunks
1 scoop Vanilla Protein Powder
Toppings: use as little or as much as you like (here is what I used in mine)
Post Honey Bunches of Oats with Almonds cereal
Raspberries
Blueberries
Honey (drizzle on the top)
Unsweetened coconut flakes
Almonds
For the smoothie portion, blend together yogurt, coconut milk, pineapple, and protein powder.  Add to bowl.
Add your favorite toppings.  I loaded mine with fresh berries, coconut and Honey Bunches of Oats cereal, it really does add the perfect touch of sweetness and gives it a nice crunch.
Don't forget to pick up Post Honey Bunches of Oats or your other favorite Post cereals at Target this week.  It's the perfect time to stock up with the buy 3, get the 4th box free sale.   Here is a savings scenario for you:
Post Honey Bunches of Oats Cereal $2.99 (prices may vary) ~ Buy 4
Buy 3, get the 4th box free (-$2.99)
(2) $1/2 printable coupon
Final Price = $1.74 each
There is also a 25% off Cartwheel offer for Post Oreo O's cereal that is valid through 5/26.  I think this cereal would be fun in a chocolate and peanut butter smoothie bowl.