Stock-Up on Dr Pepper at Target & Dr Pepper Tropical Blitz Drink Recipe for Game Day
We may earn money or products from the companies mentioned in this post.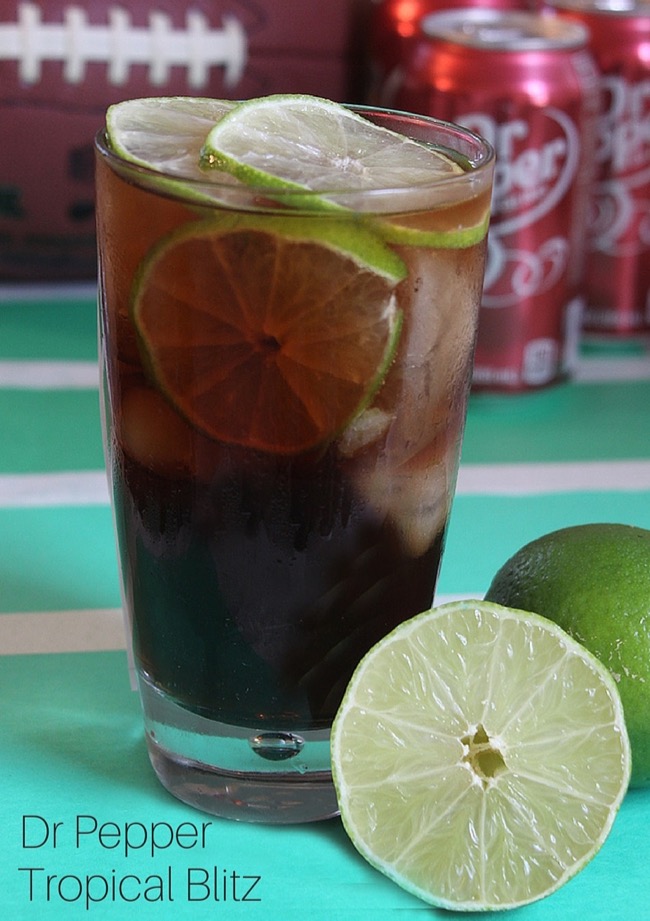 The College Football Playoffs will be here before you know it and now is a great time to stock up on drinks for the big game.  Dr Pepper is a sponsor of the College Football Playoffs and Target is the perfect place to pick up Dr Pepper.  The Dr Pepper 12-packs are on sale this week 4 packs for $12 and there is a 20% off Cartwheel offer good on all Dr Pepper packs and varieties.
I'm sharing a fun recipe for Dr Pepper Tropical Blitz that you can serve at your football viewing party. This drink is perfect for any party because it's super easy and you don't need a bunch of additional ingredients.
Dr Pepper Tropical Blitz combines the flavor of coconut and lime to Dr Pepper soda.   Both flavors are a refreshing addition!
Here are the ingredients you need for Dr Pepper Tropical Blitz:
1 can Dr Pepper
2 TBSP coconut syrup (I used Sugar-Free)
2-3 slices of lime
Making the drink is super easy!   You will love how quick and easy they are to make, you won't have to spend all day in the kitchen making drinks for your company.   You can watch the game with you friends!
Add ice to a glass and pour in 1 can of Dr Pepper.  Add 2 TBSP Coconut syrup to the Dr Pepper and stir.
Slice a lime and add 2-3 lime slices into the drink.   You will love the tropical flavor it adds to your Dr Pepper.  The combination of coconut and lime with the sweet flavor of Dr Pepper is so good.
To make sure you have everything on hand for these yummy drinks make sure you stop by Target. This week at Target you can pick up four 12-packs of Dr Pepper, Diet Dr Pepper, Dr Pepper TEN, Dr Pepper Cherry or Diet Dr Pepper Cherry for less than $10!  The 12-packs of Dr Pepper are on sale 4/$12 and there is a 20% off Cartwheel offer that makes the deal even sweeter.   You can get the 12-packs for only $2.40 each, which is a stock-up worthy price in my book.   Here is the deal:
Dr Pepper 12-pack 4/$12 ($3.00 each)
Save 20% on Dr Pepper with Cartwheel (save $2.40 on 4)
Final Price = $2.40 each
Head over to DailyBreak.com for some Dr Pepper and College Football Playoff fun.  You can take a football quiz, upload photos, watch videos and more.
This post is sponsored by Dr Pepper. All thoughts and opinions are my own.