Amazon: Lightning Deals on LEGO's Today (11/12)
We may earn money or products from the companies mentioned in this post.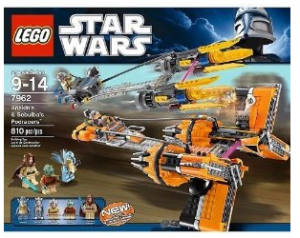 There are some Amazon Lightning Deal on LEGO's
today.
You will have to be quick with these, they go "live" at a certain time and then you have to "claim" the offer, they will give you a set amount of time to checkout.
When these prices go live, the prices will be lower than what you see posted here. Here are the deals that are coming up:
Live at 12:00 m PST: LEGO Star Wars Anakin's & Sebulba's Podracers 7962
(currently $69.97)
Live at 1:00 pm PST: LEGO Cars Mack's Team Truck 8486
(currently $32.76)
Live at 3:00 pm PST: LEGO Super Heroes The Hulk 4530
(currently $14.97)
Live at 4:00 pm PST: LEGO DUPLO 6134 Cars Siddeley Saves The Day
(currently $34.61)
Live at 6:00 pm PST: LEGO City Off Road Fire Rescue (7942)
(currently $9.79)
Thanks Frugal Living NW!