100 Gift Ideas $10 or Less
We may earn money or products from the companies mentioned in this post.
Whether it's a casual coworker gift exchange, a White Elephant party, or simply Christmas on a budget, we all sometimes find ourselves in need of an affordable gift idea. However, finding something at this price point that still feels unique can be a bit of a challenge. Which is why we've scoured Target for some of the very best gifts for everyone on your list at just $10 or less!
Kids
Bullseye Plush: If you've got a little Target lover on your list, this adorable Bullseye plush is the way to go!
Unicorn Lego: We love Creator LEGOS because each set comes with three unique instruction books so you can extend the fun! This one comes with instructions for a unicorn, seahorse, or magical peacock!
Travel Mazes: We love toys that double as educational resources. This kit is great on-the-go and comes with 50 unique dry-erase maze inserts!
Mixed Bracelet Set: This set comes with five colorful bracelets complete with the cutest charms!
Spot It Game: This game has been a family favorite of ours for years! Fun way to engage with your littles while they practice matching!
Paint by Sticker Book: Another fun activity for detail-oriented young creatives!
Pop It Game: These popular toys come in a wide range of colors and textures and this ombre version is my personal favorite!
5 Minute Princess Stories Book: Disney lovers need to check out this storybook! Quick reads featuring all 12 Disney princesses, from Snow White to Moana.

Olaf Plush: Another great plush option for the Frozen-lovers in your life!
Mickey Mouse Sweatshirt: I've seen lots of different Disney sweatshirts at Target, and this one is by far my favorite! I love the fact that it has a patch sewn on!
Boys Spiderman Beanie: He's one of the most popular superheroes for good reason. Snag this "amazing" beanie for the winter months!
Girls Minnie Mouse Beanie: Where was this when I was younger? The cutest beanie for young Disney fans!
Paint Your Own Dragon Kit: With the colder months coming, finding fun indoor activities can be a challenge, but this painting kit is perfect for a creative afternoon in!
3D Chalk: This kit comes with five pieces of chalk and a special pair of 3D glasses that make your chalk drawings pop out of the sidewalk!
Playfoam: This set comes with eight unique colors, in both "Classic" and "Sparkle". Great for sensory play!
UNO Flip: A fun twist on a classic game! Great for kids 7 and up!
Motion Sensing Helicopter: This is one of those toys that can even hold my attention for an entire afternoon. This floating device can sense objects around it and will fly around the room, avoiding walls, ceilings, and other objects.
Bead Bracelet Kit: This kit comes with everything you need to make all kind of bracelets. Whether you're looking to make braided friendship bracelets or beaded bling and keychains, it's all in here!
Sensory Bear: This adorable sensory bear comes with a deck of cards to help facilitate search and find games, perfect for kids 3 and up!
Dino Clicker Toy: If you're got a baby on your list this year, this Dino Toy is the perfect affordable find! Great sensory play as it makes clicking sounds with each twist-and-turn of the legs.
Wooden Alphabet Puzzle: This colorful Alphabet Puzzle has the cutest designs and is another great affordable find for the kids on your list that are at the stage of learning their ABC's.
Tweens + Teens
Gatorade Bottle: A staple for teen athletes! This bottle carries 32 oz and is designed with a contoured shape for an easy carry.
Wreck this Journal: I've gifted this on a few occasions and it's always a big hit! A journal specifically designed for thinking outside the box!
Zippered Heart Jewelry Organizer: I'm obsessed with the heart-shape! You can grab it in one of four different colors and is the cutest vanity accessory or on-the-go organizer!
Scrunchie Set: Another great hair accessory set! There are six different color variations and they each come with three unique scrunchies.
Lipstick Case Clip-On: I can't believe I've never seen something like this before! This lipstick case allowed you to carry your favorite lip product with you everywhere you go! Also availble in six colors, including several with rhinestones!
Claw Clip Set: In my opinion, one of the greatest "2000s comebacks" has been the return of the claw clip! This set comes with two clips – one acrylic and one metal, complete with colored rhinestones.
Grayson Smile Shoelaces: Accessories are the coolest way to customize your look and express yourself and these shoelaces are such a fun and unique way to give your shoes a new look!
Grayson Smile Keychain: This keychain gives such happy vibes! Perfect for brand new drivers looking to accessorize their keys!
Plaid Plush Throw: In my opinion, there's no such thing as too many blankets. And these cozy throws come in the perfect festive colors!
Bath Bomb Set: In my opinion, nothing beats unwinding in a hot, sudsy bath. These set comes with four bath bombs in Enlightening Gardenia, Cleansing Eucalyptus, Relaxing Lavender, and Energizing Citrus Basil.
Adulting Journal: For those on the precipice of a a new stage in life, this adorbale journal is perfect for tweens wanting to start a new year on the right note!
Make Your Own Magic Journal: Another great journal option! A gorgeous cover and pages full of wellness-centered guided prompts. Great for older teens!
Minecraft Book: This New York Times Bestselling book has tons of 5-star reviews online and traces the story of "a new hero stranded in the world of Minecraft who must survive a harsh environment while unraveling the secrets of a mysterious island."
NERF Face-Off Set: This set is perfect for a pair! Comes with two blasters, darts, and a target.
Mini Waffle Maker: This gift is perfect for someone heading off to college! It's easy to travel with and makes mini waffles in minutes!
e.l.f Daily Dew Stick: This highly-rated highlighter comes in four shades and is infused with skin-loving ingredients that give you a radiant glow!
Card Case Keychain: Another great keychain option that serves a handy purpose! This adorable Card Case has a butteryfly-shaped mirror and slots for several cards!
Flower Claw Clip: I personally own this and have gotten so many compliments! A great affordable option for a popualr product.
Face Mask Set: This is my personal favorite brand of face masks! I especially love the Water-Gel ones!
Make-Up Sponge Kit: This kit comes with six different sponges, in different sizes and shapes. Personally, I could use a makeup sponge refresh. I've been using the same ones for way too long and love getting a fresh set!
Skin Care Tool Kit: Those cozy, at-home spa nights just got a whole lot nicer. This kit comes with drip protectors for your wrist, a facial roller, and exfoliating skin scrubber!
Mini Basketball Hoop + Ball: Does it get any more classic than this? Shooting hoops from your own bedroom.
Gold Chain Phone Wristlet: A chic accessory for those with a smartphone! Helps you hold onto your phone and looks cute while you're at it!
Butterfly Hoops: These gorgeous earrings immediately caught my eye! Perfect for concerts, dances, and more!
Nintendo Switch Travel Case: If you know someone with a Switch, this case comes with a 4-game card holder and makes it easy to take the device over to a friend house or anywhere else on-the go!
Monopoly Deal: A travel-friendly spin on a classic game! Can be played with 2-5 players and takes about 15 minutes!
Aerobie Sprint Ring: This outdoor disc has been the source of many afternoons of fun for our family! Great for those that love to get outside and play frisbee or other yard games!
Boba Fett LEGO: I'm a firm believer that LEGOs are truly an exciting gift at any age! This mini Star Wars set comes with the Boba Fett Minifigure and his Starship!
The Inheritance Game: This is one of those popular "BookTok" reads that is well worth the hype! This book tells the story of a young women mysteriously left an inheritance by a puzzle-loving man she's never even met.
Make Up Brush Set: I also own these and have loved them! A quality brush set for the price!
Paint by Number Kit: This kit comes with four unique designs and all the supplies you need for a creative evening in! Great idea for sleepovers or other casual hangs with friends!
Men + Women
ColourPop Lip Oil: This is one of my personal favorite Lip Oils! Glides on like butter and gives you a dewy, plump finish!
Reed Diffuser (Women): This gorgeous diffuser fills the room with Aloe & Bergamot!
Salad Serving Spoon: Figmint is Target's newest brand and they feature beautiful, high-quality kitchen essentials at a great price! I love this wooden spoon set!
Hearth & Hand Trinket Dish: This adorable dish is from the popular Hearth & Hand line and Target and would be great paired with a set of simple earrings!
Classy Monogram Mug: If you know someone who loves a classic look, these Monogram mugs are the way to go! Feels like something I would find at a boujie brunch spot!
Women's Slippers: I can't believe how soft these are, considering the price point! These slippers come in more than 10 different colors and patterns, including the popular checkered pair!
Mini LED Lantern: The perfect lantern to walk with! If you've got someone on your radar who loves the outdoors and going camping, this is an affordable and useful find!
Men's Dopper Kit: This travel bag is made from sturdy woven fabric and a vegan-leather trim. A sleek and classic look for on-the-go!
3-in-1 Avocado Tool: I personally own this and have loved it! Working with avocados is often a mess, but this tool makes it quick and clean!
Tree Hut Candy Cane Body Butter: This Candy Cane fragrance is one of my favorites! I love anything peppermint-scented during this time of year!
Cooling Sleep Mask: This sleep mask is different from many others because it's made with cooling gel beads for a relaxing nightly rest!
Fireside Flannel Candle: I'm personally always excited about receiving a candle! I love how it instantly make any space feel cozier! And what's cozier than a fireside flannel?
Men's Star Wars Ring: Got a Star Wars lover on your list? This R2D2 Spinner Ring is so cool!
Men's Beanie: This beanie gets killer reviews and is only $5! Comes in both Cream and Indigo!
Harry Potter Luggage Tag: The coolest luggage tags for the Potterheads in your life!
Cell Phone Wallet Pocket: This handy stick-on pocket comes in a sleek black rattlesnake texture and makes it so handy to quickly access cards or IDs that you use a lot! It also means you don't have to carry an actual wallet if you travel light enough.
Good & Gather Holiday Pickling Mix: This is something totally different! I would be great in a stocking for a pickle fan or would make a great hosting gift.
Reed Diffuser (Men): This one comes in a more "masculine" look and smells of Cedarwood Musk.
Women's Fuzzy Socks: These socks are so plush and soft! Perfect for snuggling up at home during those cold months – especially if you have chilly hardwood floors!
Stoneware Salt & Pepper Cellars: These would look gorgeous on any kitchen countertop! Also from the new Target brand that we love!
Pen Diffuser: This is probably one of our most unique finds! This pen is described as an "aroma infused writing experience". Who doesn't want to enjoy the scent of "Crisp Mountain Air" while they work?
Ghiradelli Sea Salt Caramel Squares: You truly can't go wrong with chocolate around the holidays, and in my opinion, there's nothing better than a bag of Ghiradelli.
Mini Cheese Board: This mini cheese board was made for personal charcuterie boards! It measures 10″ by 5″ and comes in a stunning dark wood.
Joon x Moon Gift Set: This set comes with both a whipped soap and a set of sugar scrub cubes. A luxurious bath and shower treat for the self care lover on your list.
Exfoliating Skin Scrubber: This skin scrubber has the coolest texture and is a shower must-have in my opinion! It's a great alternative to a loofah as it's made from a hypoallergenic antimicrobial material and won't collect bacteria like a loofah does.
Mini Duke Cannon Cologne: This travel-size cologne is highly-rated and can be described as woodsy, light, bright and airy!
Men's Watch: This classic watch is an affordable men's fashion staple.
Thick Gold Hoops: These earrings are a chic staple for anyone who loves gold jewelry!
Blogilotes Resistance Bands: This set comes with three resistance bands in the most gorgeous colors, made by Casey Ho, the owner of the #1 fitness channel on YouTube.
Multi Color Pickleballs: If you know someone who's hopped on the Pickleball bandwagon, these ball sets are such a fun idea! They have three different color-blocked ball options!
Mini Waffle Cookbook: This cookbook comes with more than 80 unique recipes for some truly delicious mini waffles!
Mini Pizzelle Maker: Dash is the king of miniature kitchen appliances, and this Pizzelle Maker is the cutest way to get those delicious Italian waffle cookies quick and easy from the comfort of your own home.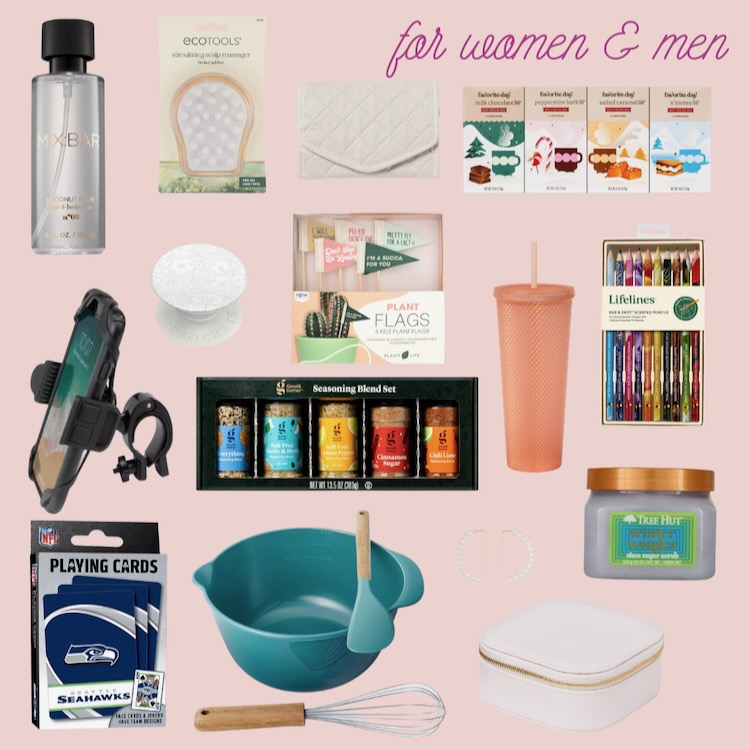 Mixing Bowl Set of 3: This set comes with a mixing bowl, spatula, and whisk – all in a gorgeous turquoise color!
Mix Bar Body & Hair Mist: This mist gets great reviews and comes in several incredible fragrances, but thus Coconut Palm one is my personal favorite!
Essential Oil Pencils: This set comes with 10 colored pencils that are each infused with a unique essential oil, so you can enjoy some soothing scents while you doodle.
Scalp Scrubber: I love using my scalp scrubber in the shower! Great for getting a good lather and gently exfoliating the scalp! Perfect gift for the beauty guru in your life.
Bike Phone Mount: If you've got someone on your list who loves to go out biking, this phone mount is perfect! With a 360-degree rotating design, they can get optimal viewing from almost any angle.
NFL Team Playing Cards: Pick your person's favorite team and gift them this cool card deck!
Opalhouse Tumbler: The studded texture makes these tumblers seem so chic!
Floral Pop Socket: These Pop Sockets are the celebration of both form and function. They come in three different gorgeous floral designs!
Holiday Hot Cocoa Mix: What's winter without consuming an excessive amount of hot cocoa? This set comes with milk chocolate, peppermint, s'mores, and salted caramel flavored hot cocoa! You an also break this up and have four little gifts!
Plant Flags: Got a plant mom on your list? These cheeky mini flags are such a fun accessory for potted plants!
Good & Gather Holiday Spice Gifting Set: I think this is the perfect hosting gift, of something for the hard to buy for guys in your life.
Folding Accessory Organizer: Perfect for the travel-lover in your life, this Accessory Organizer comes in three colors and is specially designed for every kind of piece of jewelry!
Travel Jewelry Case: Another great option for jewelry organization. Comes in the most beautiful pale pink color.
Winter Wonder Tree Hut Sugar Scrub: This list wouldn't be complete without at least one Tree Hut product. These popular Sugar Scrubs come in the best seasonal scents and make for a great gift!
Men's 3-Pack of Socks: I love this sock set! They're subtle enough to be worn everyday, but still bring a bit of fun to the office – of wherever you wear them!
Pearl Drop Earrings: I've had my eyes on these for awhile! Such a timeless pair of earrings!