Target: Market Pantry Cookies as low as $.26
We may earn money or products from the companies mentioned in this post.
We received a $1 off Target mobile coupon for Market Pantry cookies and you can pick up some wafers for only $.26. I've also included several other options you can use the coupon on.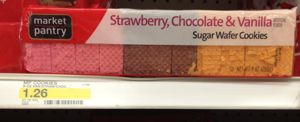 Market Pantry Wafers $1.26
$1/1 Target mobile coupon
Final Price = $.26
Market Pantry Chocolate Chip Crispy $1.44
$1/1 Target mobile coupon
Final Price = $.44
Market Pantry Creme Sandwich Cookies $1.59
$1/1 Target mobile coupon
Final Price = $.59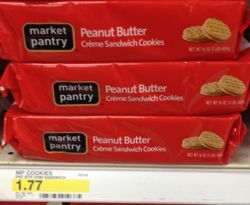 Market Pantry Peanut Butter Sandwich cookies $1.77
$1/1 Target mobile coupon
Final Price = $.77
Market Pantry Chunky Chocolate Chip $1.79
$1/1 Target mobile coupon
Final Price = $.79