We may earn money or products from the companies mentioned in this post.
It's no surprise that Target is my favorite store, but it's turning out to be one of my favorite places to go for home decor. I did a quick peek around my home and noticed I have products from Target in pretty much every room in my house. I'm sharing a peek at some of the Target items I have around my home right now. Where do the majority of the home decor items come from in your home?
It took me awhile to decide on a runner for my kitchen, I finally decided on the Threshold Medallion Washable Tufted And Hooked Rug and I am so glad I did. I love how it looks and I love that I can easily throw in the mashing machine too.
I use this Modern Soft Touch Tray by Project 62 in my kitchen to hold my dish soap and hand soap. It's technically a tray for the bathroom, but it works perfectly in my kitchen.
My kitchen is filled with lots of items from the Hearth and Hand line, including the Decorative Wooden Cookbook Holder Easel, the Kitchen Conversions Wall Sign and the Faux Eucalyptus Arrangement. Now I just need this dreamy Hearth & Hand KitchenAid Artisan 10-Speed Stand Mixer.
I loved this Hearth & Hand Long Wood Carved Tray the first time I saw it! I ended up using it over my fireplace with a few items decor items inside. The Hearth & Hand pitcher is one of the items I picked up at 70% off.
This Threshold French Country Mantle Wood Mirror is a popular item online at Target, it goes in and out of stock quickly. They have several different styles of the French Country Mirrors. I love how it has a little curve to it, it gives it some extra flair.
The cute Threshold Table Clock in Matte Black is priced at only $10 and I think it makes the perfect functional decor item. I also have the popular Studio Mcgee faux ferns that are very realistic looking, especially for the price.
My husband and I built a couple of DIY art ledges (I've got details on the project over at Gather Lemons). Most of the art is from Hobby Lobby, but I am particularly fond of the Je Taime Framed Wall Art from Studio McGee that I picked up at Target. It has a great texture on the background of the print to give it some added dimension.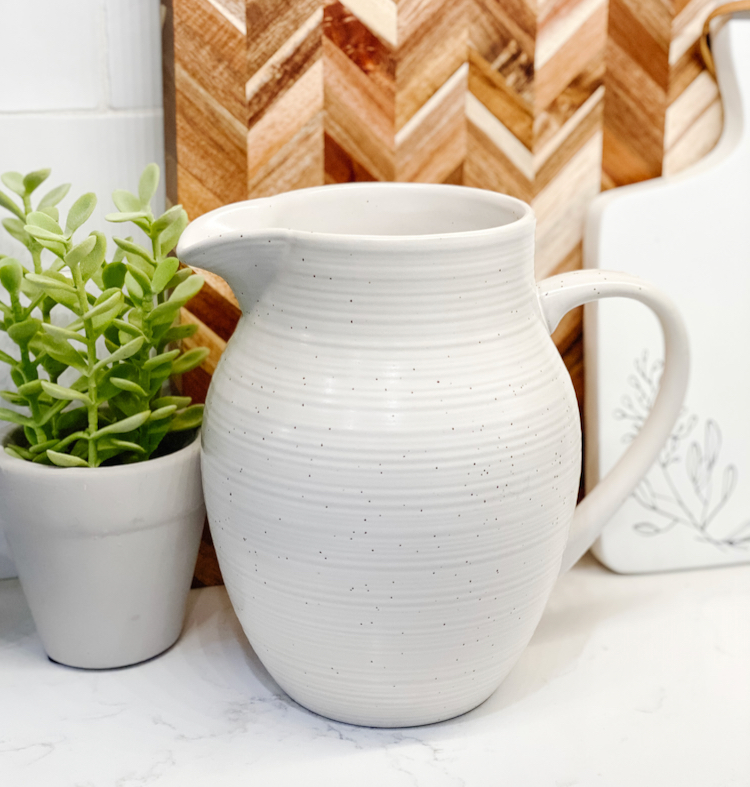 Another favorite item in my kitchen is the Studio McGee Stoneware Large Glazed Pitcher, it's priced great at only $15.