Target Weekly Coupon Match-Ups 8/25 – 8/31
We may earn money or products from the companies mentioned in this post.
Using coupons at Target: Target has their own printable store coupons. Target will allow you to use one Target store coupon and one manufacturer coupon on each item, by "stacking" two coupons you can save some big money and pick up some items for cheap or even FREE. Additionally, you can now save even more with Cartwheel by Target.
To make it a little easier for you to find the newest deals, we have marked the deals that have not been in the previous weeks coupon match-ups with NEW!   If you see an item that was in the match-ups last week with the word  NEW!  by it, that means there has been a price change or a new coupon has popped up or reset.
GROCERY
Driscoll's Raspberries (6 oz) $2.00        NEW!
$1/1 Target mobile coupon (text FRESH to 827438) one time use
$.50/1 printable coupon
Pay = $.50
Get $.50 back from iBotta
Final Price = FREE
Corn on the Cob $.25 – Buy 4    
$1 off $1 Target mobile coupon (Text FRESH to 827438) one time use
Final Price = 4 FREE
Reynolds Baking Cups $.97       
$1/1 coupon from 6/23 SmartSource insert
Final Price = FREE
Market Pantry White Bread $1.22    
$1 off $1 bread Target mobile coupon (text FRESH to 827438) one time use
Final Price = $.22
Green Giant Baby Carrots $1.24 
$1 off $1 Fresh Veggies Target mobile coupon (text FRESH to 827438) one time use
Final Price = $.24
Market Pantry Gummi Bears $1.25     NEW!
$1 off Shopkick Target coupon
Final Price = $.25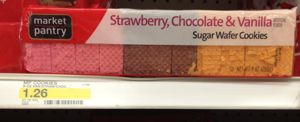 Market Pantry Wafers $1.26       NEW!
$1/1 Target mobile coupon
Final Price = $.26
Balance Bars $.87 ~ Buy 2    
$1/2 coupon from 8/4 Red Plum insert
Final Price = $.37 each
Market Pantry Wheat Bread $1.39  
$1 off $1 bread Target mobile coupon (text FRESH to 827438) one time use
Final Price = $.39
Market Pantry Chocolate Chip Crispy $1.44
$1/1 Target mobile coupon
Final Price = $.44
Maruchan Yakisoba $.89       NEW!
$.50/1 coupon from 8/25 SmartSource insert
Final Price $.49 each
Market Pantry Sauce $1.00    ~ Buy 2      
$1 off when you buy both Target printable coupon
Final Price = $.50 each
Chobani Champions Greek Yogurt (4-pack) $2.59    NEW!
$1/1 Target printable coupon
$1/1 printable coupon
Final Price = $.59 each
Market Pantry Creme Sandwich Cookies $1.59       NEW!
$1/1 Target mobile coupon
Final Price = $.59
Market Pantry Pasta $1.00 ~ Buy 3     
$1/3 Target printable coupon
Final Price = $.67 each
Market Pantry Peanut Butter Sandwich cookies $1.77       NEW!
$1/1 Target mobile coupon
Final Price = $.77
Market Pantry Chunky Chocolate Chip $1.79       NEW!
$1/1 Target mobile coupon
Final Price = $.79
Snickers or Milky Way Bites $2.66   ~ Buy 2  
$1.50/2 Target printable coupon
(2) $1/1 coupon from 7/28 Red Plum
Final Price = $.91 each
Kraft Recipe Makers $2.99     
$1/1 Target coupon from 7/14 SmartSource insert
$1/1 printable coupon
Final Price = $.99 each
Activia Yogurt (4-pack) $1.99    
$1/1 coupon from 8/4 SmartSource insert
Final Price = $.99 each
Cantaloupe $1.99
$1 off $1 Fresh Fruit Target mobile coupon (text FRESH to 827438) one time use
Final Price = $.99
Go Go Squeeze (4-pack) $2.00     
$.90/1 printable coupon (share coupon)
Final Price = $1.10 each
Market Pantry Fruit Snacks $1.64 – Buy 2
$1/2 Target printable coupon
Final Price = $1.14 each
Rice Krispies Treats $1.99 ~ Buy 2    
$1/2 coupon from 8/4 Red Plum insert
Final Price = $1.49 each
Eggo Waffles $2.00 ~ Buy 2    
$1/2 coupon from 8/4 Red Plum insert
Final Price = $1.50 each
Welch's Essentials Juice $2.00         NEW!
$1/2 coupon from 8/25 Red Plum insert
Final Price = $1.50 each
Simply Balance Chips $2.99    
$1.25 Target printable coupon
Final Price = $1.74 each
M&M Chocolate Candies $2.66 ~ Buy 2     
Save 5% with Target by Cartwheel (-$.27)
$1.50/2 coupon from 8/18 Red Plum insert
Final Price = $1.78 each
Skippy Peanut Butter $2.50     
$1/2 coupon from 7/28 SmartSource insert
Final Price = $2.00 each
HEALTH & BEAUTY
Gillette Series Shave Gel $1.99 ~ Buy 3     
$6/3 coupon from 8/11 Red Plum insert
Final Price = 3 FREE
Bic Silky Touch Razors $2.99
$3/1 coupon from 8/11 SmartSource insert
Final Price =FREE
Ivory Soap (3-pack) $.97    
$.50/1 coupon from 7/28 P&G inert
Final Price = $.47 each
Up & Up Ibuprofen $.99 ~ Buy 2    
$1/2 Target printable coupon
Final Price = $.49 each
Aquafresh Training Toothpaste $2.00  
20% off with Cartwheel by Target (-$.40)
$.75/1 printable coupon
Final Price = $.85 each
Up & Up Antacid $1.93    
$1/1 Target printable coupon
Final Price = $.93 each
Chapstick 3-pack $2.99 ~ Buy 4          NEW!
Save 10% with Cartwheel by Target (-1.20)
(2) $1/2 coupon from 8/25 Red Plum insert
Pay = $8.76
Get $5 gift card when you buy 4
Final Price = $.94 after you factor gift card
Sure Deodorant $1.97         NEW!
$1/1 coupon from 8/11 SmartSource insert
Final Price = $.97  each
Nivea Men Shave Gel $2.49 ~ Buy 2      
$2/2 coupon from 8/18 Red Plum insert
Final Price = $1.49 each
Neosporin Wound Cleaner $3.64     
$2/1 coupon from 7/28 SmartSource insert
Final Price = $1.64 each
Got2b Styling products $3.74   
$2/1 coupon from 8/4 Red Plum insert
Final Price = $1.74 each
John Frieda Frizz Ease Shampoo & Conditioner $4.84 ~ Buy 4     
(2) $3/2 coupon from 7/28 SmartSource insert
Pay = $13.36
Get $5 gift card when you buy 4
Final Price = $2.09 each after you factor gift card you receive
Neosporin Original Ointment $4.19      
$2/1 coupon from 7/28 SmartSource insert
Final Price = $2.19 each
Gillette Sensor 3 $5.33    
$3/1 coupon from 8/18 Red Plum insert
Final Price = $2.33 each
Gillette Simply Venus Razors $5.38     
$3/1 coupon from 8/18 Red Plum insert
Final Price = $2.38 each
Tom's of Maine Naturally Dry Deodorant $3.99       
$1.50/1 coupon from 6/23 SmartSource insert
Final Price = $2.49 each
HOUSEHOLD
Palmolive Dish Soap $1.02  
$.75/1 dish soap Target mobile coupon (text FRESH to 827438) one time use
$.50/1 coupon from 7/28 SmartSource insert
Final Price = FREE
Wet Ones (40 ct) $1.99      NEW!
$.50/1 Target printable coupon
Save 20% with Cartwheel by Target (-$.30)
$.75/1 printable coupon
Final Price = $.44
Seventh Generations Dish Liquid $2.69    
$.75/1 Dish Washing Target Mobile coupon (text FRESH to 827438) one time use
$1/1 printable coupon (Household)
Final Price = $.94 each
Room Essentials Pillow $4.04
$2/1 printable coupon
Save 10% with Cartwheel by Target (-$.20)
Final Price = $1.84
SCHOOL SUPPLIES
Up & Up Wood Ruler $.25       NEW!
$1/4 Target mobile coupon
Final Price = FREE
Bic Cristal Pens (10 ct) $.99    
$1/1 coupon from 8/4 SmartSource insert
Final Price = FREE
Up & Up Crayons (24-pack) $.25       NEW!
$1/4 Target mobile coupon
Final Price = FREE
Bic Wite Out $1.02    
$1/1 coupon from 8/4 SmartSource insert
Final Price = $.02 each
Up & Up Glue Sticks (2-pack) $.30      NEW!
$1/4 Target mobile coupon
Final Price = $.05 each
Up & Up Glue $.39         NEW!
$1/4 Target mobile coupon
Final Price = $.14 each
Up & Up 3×5 Notecards $.49        NEW!
$1/4 Target mobile coupon
Final Price = $.24 each
Bic Highlighters (3 ct) $1.32   
$1/1 coupon from 8/4 SmartSource insert
Final Price = $.32 each
Paper Mate Pens $.90 ~ Buy 2    
$1/2 Target printable coupon
Final Price = $.40 each
Expo Dry Erase Markers $2.00 ~ Buy 2    
$1.25/2 coupon from 8/18 SmartSource insert
Final Price = $1.38 each