Target: FREE Nestle Cookie Dough with Game Purchase
We may earn money or products from the companies mentioned in this post.
This week Target has a great sale on many popular games. There are coupons and a few Cartwheel offers to go with these. Plus, to make this deal even sweeter, you can score Nestle Toll House cookie dough for FREE with select game purchase of $9.99 or more.
Twister $14.00
FREE Nestle cookie dough with purchase
$3/1 coupon from 9/21 SmartSource insert or $3/1 printable coupon
Final Price = $11.00 each + FREE cookie dough
Battleship $14.00
FREE Nestle cookie dough with purchase
$3/1 coupon from 9/21 SmartSource insert or $3/1 printable coupon
Final Price = $11.00 each + FREE cookie dough
Monopoly Junior $14.00
FREE Nestle cookie dough with purchase
$3/1 coupon from 9/21 SmartSource insert or $3/1 printable coupon
Final Price = $11.00 each + FREE cookie dough
Trivial Pursuit Family Edition $14.00
$3/1 coupon from 9/21 SmartSoucre insert
Final Price = $11.00 each + FREE cookie dough
Hungry Hungry Hippos $18.00
FREE Nestle cookie dough with purchase
Save 20% with Cartwheel by Target (-$3.60)
$3/1 coupon from 9/21 SmartSource insert
Final Price = $11.40 each + FREE cookie dough
Jenga Tetris $14.99
FREE Nestle cookie dough with purchase
$3/1 coupon from 9/21 SmartSource insert or $3/1 printable coupon
Final Price = $11.99 each + FREE cookie dough
Taboo Game $14.99
$3/1 coupon from 9/21 SmartSource insert
Final Price = $11.99 each + FREE cookie dough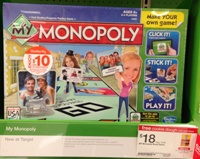 My Monopoly $18.00
FREE Nestle cookie dough with purchase
$3/1 coupon from 9/21 SmartSource insert or $3/1 printable coupon
Final Price = $15.00 each + FREE cookie dough
Scrabble $18.00
FREE Nestle cookie dough with purchase
$3/1 coupon from 9/21 SmartSource insert or $3/1 printable coupon
Final Price = $15.00 each + FREE cookie dough
Play-Doh Activity Game $18.00.
FREE Nestle cookie dough with purchase
$5/1 coupon from or $5/1 printable coupon
Final Price = $15.00 each + FREE cookie dough
Taboo Buzz'd Game $18.00
FREE Nestle cookie dough with purchase
$3/1 coupon from 9/21 SmartSource insert or $3/1 printable coupon
Final Price = $15.00 each + FREE cookie dough
Catch Phrase $18.99
FREE Nestle cookie dough with purchase
$3/1 coupon from 9/21 SmartSource insert or $3/1 printable coupon
Final Price = $15.99 each + FREE cookie dough
Doc McStuffins Operation $20.49
FREE Nestle cookie dough with purchase
$3/1 coupon from 9/21 SmartSource insert or $3/1 printable coupon
Final Price = $17.49 each + FREE cookie dough