Extra 20% off Clearance Clothing, Shoes & Accessories + FREE Shipping
We may earn money or products from the companies mentioned in this post.
This post contains affiliate links, if you make a purchase through the link I will earn a small commission. Thanks for your support! See disclosure policy.
I love it when this deal rolls around!  You can get an extra 20% off clearance clothing, shoes & accessories for the whole family at Target.com through 12/31.  Simply use code EXTRA20 at checkout.  Many of these items are already markdown 50-70% off!  Everyone will get FREE shipping.
To get this deal in-store, make sure you add the extra 20% off clearance clothes, shoes & accessories Cartwheel offer, valid through 12/31, limit 20 per guest.  This offer does exclude Fan Central and regular priced items.  Here is a look at several of the styles you can save on:
Xhilaration Women's Lace-up Sweater $6.88 (reg $22.99)
Save 20% with code EXTRA20 (-$1.38)
Final Price = $5.50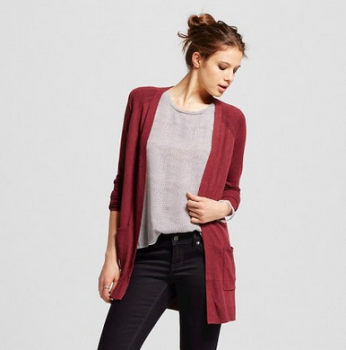 Mossimo Women's Open Cardigan 12.48 (reg $24.99)
Save 20% with code EXTRA20 (-$2.50)
Final Price = $9.98
Merona Women's Elbow-Sleeve Turtleneck $7.48 (reg $14.99)
Save 20% with code EXTRA20 (-$1.50)
Final Price = $5.98
Under One Sky Women's Backpack Handbag $12.24 (reg $34.99)
Save 20% with code EXTRA20 (-$2.45)
Final Price = $9.79
Stone NY Women's Leather Satchel Handbag $17.48 (reg $49.99)
Save 20% with code EXTRA20 (-$3.50)
Final Price = $13.98
Xhilaration Women's Solid Baseball Hat $2.44 (reg $6.99)
Save 20% with code EXTRA20 (-$.49)
Final Price = $1.95
Mossimo Supply Co. Men's Button Down Shirt $8.74 (reg $24.99)
Save 20% with code EXTRA20 (-$1.75)
Final Price = $6.99
Boys' Star Wars Kylo Ren T-Shirt $5.38 (reg $8.99)
Save 20% with code EXTRA20 (-$1.08)
Final Price = $4.30
Just One You Made by Carter's Boys' 4-pc Pajama Set $9.58 (reg $15.99)
Save 20% with code EXTRA20 (-$1.92)
Final Price = $7.66
Xhilaration Girls' Sweater Vest $8.48 (reg $16.99)
Save 20% with code EXTRA20 (-$1.70)
Final Price = $6.78
Girls' Franki & Jack Sweatshirt $9.48 (reg $18.99)
Save 20% with code EXTRA20 (-$1.90)
Final Price = $7.58