$15 Gift Card with $75 Baby Care Purchase
We may earn money or products from the companies mentioned in this post.

This week you can earn a high value $15 gift card with $75 baby care purchase at Target.com through 5/5, no code required.   Now would be a great time to stock up on diapers, wipes, toiletries and more.  Everyone will get FREE shipping because you'll meed the $35 shipping threshold.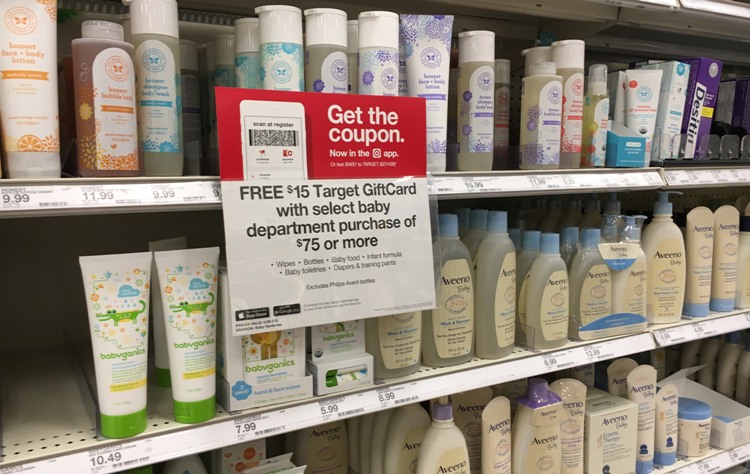 To save in-store, simply text BABY to 827438 to get this coupon sent straight to your phone, or you can find this coupon in the Target app (click the "barcode" button to find all the coupons).  This is also available inside the Target ad.  Coupon is valid through 5/5.  Don't forget to check out Cartwheel for more ways to save.  Here are a couple of deal scenarios you can do:
Pampers Easy Ups Super-Pack Training Pants $24.99 ~ Buy 3
Pampers Sensitive Baby Wipes $1.99 ~ Buy 1
Present $15 gift card with $75 baby department purchase Target mobile or in-ad coupon (text BABY to 827438)
$3/1 Pampers Easy-Ups manufacture coupon (found in Cartwheel on Target app) expires 6/2
(2) $3/1 Pampers Easy-Ups or diapers from 4/29 P&G insert expires 5/12
$.50/1 Pampers wipes coupon from 4/29 P&G insert expires 5/12
Pay = $67.46
Get $5.00 back from ibotta (when you buy Pampers Easy-Ups) expires 6/29
Get $15 gift card from deal scenario from above (through 5/5)
Final Price = it's like paying $15.82 for each Easy-Ups + FREE wipes after gift card
Huggies Super-Pack Diapers $24.29 ~ Buy 3
Huggies Simply Clean Baby Wipes $1.79 ~ Buy 2
Present $15 gift card with $75 baby department purchase Target mobile or in-ad coupon (text BABY to 827438)
Total = $76.45
(3) $2/1 Huggies Diapers printable coupons (need 2 computers)
(2) $.50/1 Huggies wipes printable coupon
Pay = $69.45
Get $15 gift card from deal scenario from above (through 5/5)
Final Price = it's like paying $18.15 for each diaper pack + 2 FREE wipes after gift card