Extra 25% off Books, ThinkGeek, Home Depot Kids & more (All Things NOT Target)
We may earn money or products from the companies mentioned in this post.
The non-Target deals for today include, an extra 25% off any one book at Amazon, FREE shipping + 25% off any order of $40 or more at ThinkGeek, 50% off men's Rockport Shoes and a FREE kids workshop at Home Depot.
Amazon is taking 25% off any one book
through 12/14.  Enter promo code BOOKDEAL25 at checkout.  Here are some examples:
Percy Jackson and the Olympians 5 Book Paperback Boxed Set
 $21.08 (reg $35.00)
Save 25% with BOOKDEAL25 (-$5.27)
Final Price = $15.81
The Science of Good Cooking (Cook's Illustrated Cookbooks)
 $18.83 (reg $40.00)
Save 25% with BOOKDEAL25 (-$4.71)
Final Price = $14.12
The Book with No Pictures
 $8.99 (reg $17.99)
Save 25% with BOOKDEAL25 (-$2.25)
Final Price = $6.74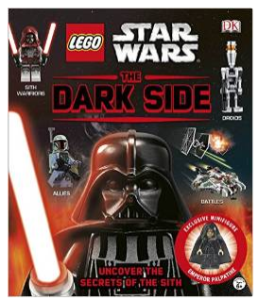 LEGO Star Wars: The Dark Side
$10.70 (reg $16.99)
Save 25% with BOOKDEAL25 (-$2.68)
Final Price = $8.02
Amazon prices can change quickly, this price was valid when posted.
ThinkGeek.com is offering FREE Shipping on any size order + 25% off when you spend $40 or more through today only.  Use promo code USALERT at checkout.  Make sure to have a peek at their clearance section
 to see what other great deals they have to offer.
My family loves to shop at ThinkGeek, and we do several times a year, it's super for specialty items from your favorite geek brands like Star Wars, Star Trek, Dr. Who and more.
Here are a couple of items that we own.  Be sure to browse their entire site, you never know what cool things you'll find.
Star Wars Gingerbread Cookie Cutters
 (set of 6)
$9.99   (reg $14.99)   SAVE 33%
Star Trek U.S.S. Enterprise D Pizza Cutter

$14.99   (reg $29.99)   SAVE 50%
Amazon has a nice selection of Men's Rockport Shoes priced at 50% off
 today only.   You will find oxfords, loafers and boots.   They all ship for FREE too!

Save the date!  Home Depot is having a FREE Kids Workshop Saturday, January 3rd, from 9:00 am – 12:00 pm.  Kids ages 5 – 12 get to build a totally awesome Mini Sled they can take home with them.
Kids will receive a FREE Kids workshop apron and a commemorative pin & certificate of achievement at the end of the workshop.