$1/1 Reynolds Foil Coupon (holiday design box only $ .49)
We may earn money or products from the companies mentioned in this post.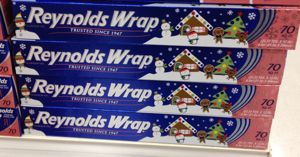 If you find any of the Reynolds foil with the holiday design on the box, it should be 50% off. There is a new $1/1 Reynolds printable coupon which will make it only $ .49 each.
Reynolds Wrap Foil (Holiday themed box) $1.49 (50% off)
$1/1 printable coupon  no longer available
Final Price = $ .49 each